cavoodle puppies for sale
Family Friendly Dogs offer Cavoodles for sale in Sydney and the Gold Coast. We are registered dog breeders ensuring the highest standards and best practices for our Cavoodle puppies for sale.
Family Friendly Dogs can come home to you house trained (toilet trained), socialised, and crate trained and more. Depending on the service level of training you select. When choosing your family pet, make sure that have enough time to properly care for your cavoodle. A well raised and trained Cavoodle puppy will typically cost between $5500-7500, depending on their colour and gender.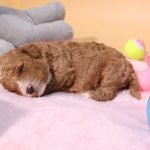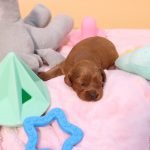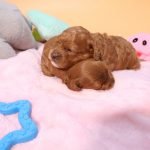 Family Friendly Dogs Provide You With:
| | |
| --- | --- |
| Puppy pack to help you get ready at home - this includes; premium Black Hawk puppy food for their first few days, collar, leash or harness, toy, blanket, poop bag, training toilet pad | |
| Vet vaccination certificate | |
| New owner's training manual | |
| Puppy checklist to ensure that you are prepared at home | |
| Copy of parent DNA testing on request | |
| Ongoing training support for owners | |
| All dogs raised in family homes | |
What are Cavoodles?
Cavoodles are a mix between a Poodle (either toy or mini) and a Cavalier King Charles Spaniel.
They can be first generation, meaning that one parent is a Poodle and the other is a Cavalier King Charles Spaniel, or second generation, meaning that both parents are Cavoodles.
Their parents can be either a Cavalier and a Poodle, two Cavoodles, a Cavoodle and Poodle, or a Cavoodle and Cavalier King Charles. 
Their ideal temperament mix and teddy bear appearance make them a popular choice as one of the ('Best Family Dogs' link page) breeds.
What Colour is a Cavoodle's Coat?
The most popular Cavoodle colours are red (dark brown) and apricot (cream to medium brown). Black Cavoodles are also highly sought after, as well as as Blenheim, and white. 
Cavoodles can also be any mix of these colours, for example; apricot and white, black and brown, or black and white.
How Can I Take Home a Family Friendly Dog Trained Cavoodle?
Contact us to let us know which dog you are interested in or to express your future interest for a specific colour/gender. Alternatively, you can join our priority list to ensure that you don't miss out on your ideal family dog.