What Are Guardian Puppies?
Our Cavoodle guardian family dog program is our way of ensuring that the mums of our family friendly trained Cavoodles get all of the love and attention from a family that they deserve! So they are integrated and loved by a family from the earliest age - whilst we will be able to maintain their lineage when they are older.
We will only select the finest family homes for our guardian puppies. 
You will receive your premium select Cavoodle at a heavily discounted rate in return for the promise of giving her the best forever home that she deserves and allowing us to guide her through 1-3 pregnancies. 
Her first pregnancy will be approximately around the second birthday (no sooner than her second or third heat cycle).
We only select the most premium puppies (those with traits including superior looks and best personalities) to become a part of our Cavoodle Guardian Program
Any dog that is a part of our Cavoodle Guardian Program will be DNA tested for any potential genetic defects to ensure that their offspring will be happy and healthy too.
They will come trained by Family Friendly Dog Trainers and we will offer lifetime training support to you for her.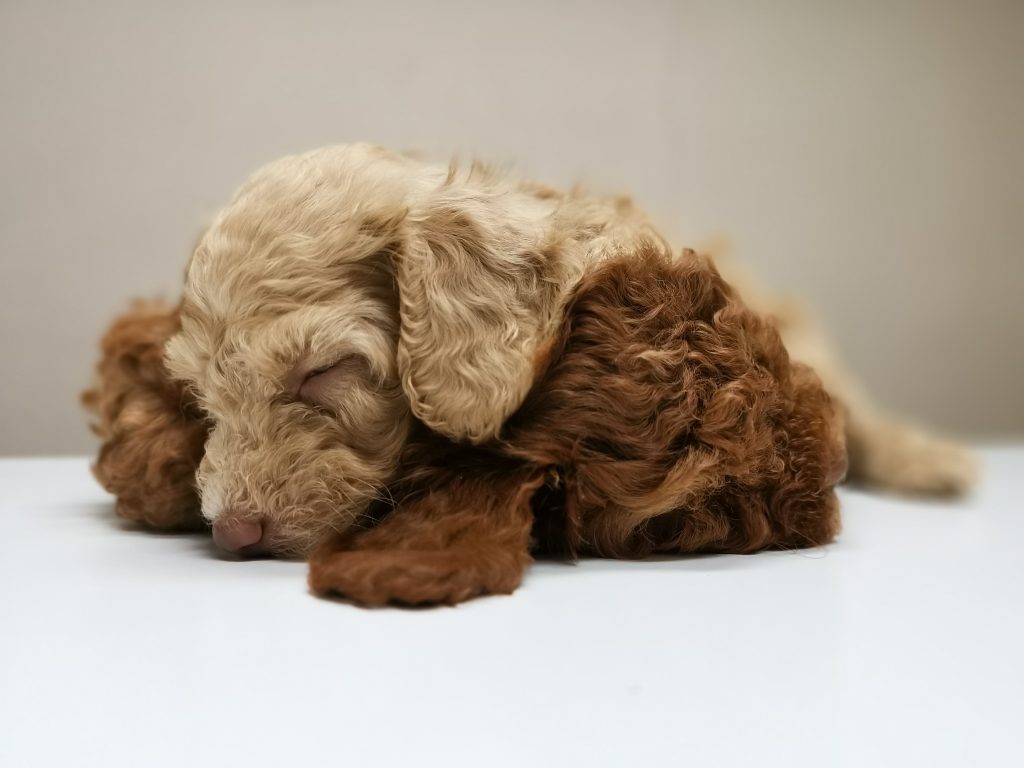 What are the Responsibilities of a Cavoodle Guardian Family?
Provide adequate attention and plenty of love to your Cavoodle.
Follow the basic training manual given to your family by us to ensure that your dog will continue to be adequately socialised and toilet trained.
Provide a safe home environment within a house with a securely fenced yard.
Feed a premium food diet (Blackhawk brand - we will give you a Blackhawks discount on foods).
Provide regular and adequate exercise.
Regular brushing, bathing, and grooming to maintain her coat.
Must be willing to travel within 1 hour of Sydney Metro Area.
Do not breed your dog with any dog other than one approved by Family Friendly Dog Trainers.
Ensure the health of your dog by maintaining regular vet visits, monthly worming and flea/tick treatments.
How Can I Become a Cavoodle Guardian?
In order for your family to be approved to join our Cavoodle guardian program, please fill in our Contact Us form to express your interest. 

We will ask you questions about your home, what other people live at your home, if there are any other animals at your home, and will need to ensure that you are prepared to commit to your dog as a lifetime responsibility (for the entire span of your dog's life), not just a short term commitment.
What are our Responsibilities to our Cavoodle Guardian Families?
We will cover all breeding related expenses.
We will DNA test your dog prior to handing her over to you to ensure that she does not carry any genetic defects which may be passed down.
Your dog will only have a maximum of three litters, depending on how well each pregnancy goes. We will use our discretion after the first pregnancy to decide whether or not it is suitable for her to have another.
We will provide care; including premium Blackhawk food, veterinary checks, and lots of cuddles and love for your dog during her pregnancy.
We will cover the cost of desexing her at the end of her breeding life.
We will provide you with a cash gift after each litter to thank you for being a part of the Family Friendly Dog family.